Twitter can be a very powerful tool for small and mid-sized businesses.
It can be setup in just a few minutes and you can start using it immediately to stay informed, join a conversation, or connect with and interact with your ideal customers. This social network has a very loyal following and claims 100 million daily users and approximately 250 million active user accounts (Source: Craig Smith, Digital Market Ramblings)
You can see from our opening statement that we do not mention market your product or services to them. People don't want to receive advertising messages from you, they want information that they find useful, entertaining or educational. We are a big believer in understanding your buying personas of your ideal customers.

Give them information based on those personas, and you'll be way more successful at attracting leads. So. if you are thinking about creating a Twitter account for your business, here are a few things that you should know:
Tip 1. Create A Complete Profile – this should be a no-brainer to most of us by now, but there are so many social media accounts across all platforms that are hastily set up and quickly neglected. Here are the basics:
Include a profile picture or 'avatar' on your page – use your logo for a company page and a high resolution picture of yourself if it is your personal page. The default image is an anonymous "egg. " Do not leave this as most active users will assume that your account is sketchy or for spamming other users!
Write a bio – Twitter gives you 160 characters to describe what you will be talking about. Use keywords to describe your business e.g. "finance" or "manufacturing."
Don't Lock Your Account – One of the best ways to not get Twitter Followers is to protect your Tweets or lock your account. This means that users can't easily follow you and your followers can't retweet any of your messages. What's the point?
Tip 2. Tweet Regularly
If you set up your account but only send out a few tweets, you won't gain new followers. People want to engage with people and companies on Twitter and share new relevant information.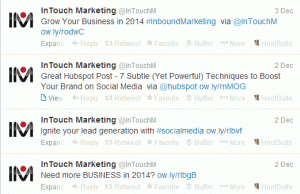 Make sure that you share any new relevant information that you create from your company Inbound Marketing strategy like blog posts, eBooks or press releases.
Tip 3. Mix It Up
If you tweet the same boring $#@% each day, people will get fed up and stop following you. Twitter works best when you mix up the types of things that you tweet about. Take the time to start conversations, tell people what you've been up to and encourage people to engage with you. Also be sure to retweet relevant tweets from other users too – retweeting doesn't mean an endorsement, it just means you found the article that they shared interesting or relevant to your general topic of discussion or your business or industry.
Tip 4. Create a Twitter Following Strategy
Be very careful with who you choose to follow. Don't be tempted to follow thousands of accounts in an attempt to get reciprocal follows. Once you have followed 2000 users, Twitter puts a restriction on how many accounts you can follow if you have a poor following/followers ratio. If the ratio is low, Twitter will stop you from following anyone new.
Develop your strategy carefully, a good starting point is to mix current or potential clients, industry thought leaders and relevant media outlets.
Tip 5. Organize
The key to creating a loyal following in Twitter is being active on the network and tweeting regularly, however you can't always be on or you will not get the rest of your work done. This is where Twitter automation tools come in handy. There are a variety of different tools available but one of our favorite tools is Hootsuite.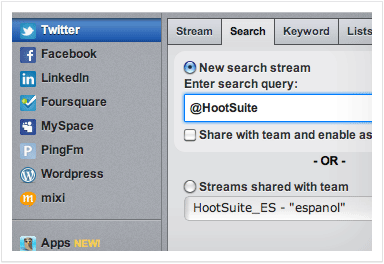 Hootsuite allows you to manage your different social networks on one platform, schedule your tweets and posts for optimal viewership along with a variety of other productivity enhancing tools.
Twitter is a powerful social media network for your business. It is useful for lead generation, staying current on industry trends as well as an enhancement for your customer service platform.
Be approachable and unique; encourage people to contact you with feedback and respond to their comments.
Remember social media is a two-way street – so make sure you listen as much as you tweet.




Bill is the CEO and Founder of InTouch Marketing. Bill drives the vision and direction of InTouch except when England's playing in a soccer tournament, because everything stops!