You may be thinking, is this guy is out of his Booking.mind?
But, when you take a second look at how this savvy company produces its commercials, you will find many similarities between their message and what your company website should accomplish.
We've all seen the commercials where weary, frightened and confused travelers are trying to get to their destination…a destination that they have spent a year planning.
All their hopes and dreams of a successful vacation hinge on that fatal moment when they unlock that hotel door and get their first look.
They hold their breath, open the door, and then realize they got it Booking.right!
All of their hard work in planning the best vacation ever paid off.
Why?
Because it's all about the destination!
No matter how much work someone puts into planning their vacation…picking out the perfect hotel, timeshare or cruise and getting the best deals on airfares, car rentals and tourist trips…it all means nothing if at the moment they open that door, all their hopes, expectations and dreams are shattered by what is laid before their eyes.
The final destination makes all the difference in the world to a great vacation experience. Your website is no different!
You Only Have a Few Seconds to Make an Impression
Think for a moment of how people search for everyday things. They put their query into a search engine like Google, Yahoo or Bing and are immediately given pages upon pages of results. As they scan the search results, they look for relevant websites that may offer solutions to their problems.
What happens in the next 6 seconds will make the difference between your website possibly generating a lead for your business or losing your visitor forever. This is where the comparison between Booking.com and your website design starts.
The planning stages of someone's vacation are similar to someone searching on the web for something specific. Admittedly, shorter timeframes are used but the essential process is the same.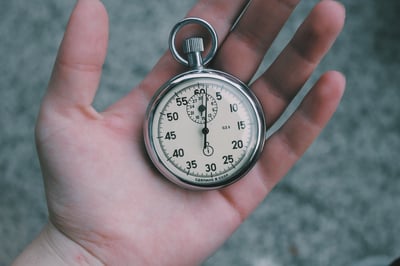 If someone is looking for something specific on the web, the idea of that search has already been determined before the search begins.
For example, they need a cover for their cell phone because the one they have just broke, or they want to go to Hawaii for vacation. As soon as the search has started, the destination will determine the possible outcome of gaining a customer or losing a customer.
By clicking on your link, something gave them the indication that your website may be a solution to their problem.
What happens if they arrive your website and it looks nothing like what the search result said.
What do they do then?
Like most of us, they click the back button and go back to the search results to look for something else. The 6 seconds we mentioned earlier has elapsed and your business has just lost a potential customer.
Why?
Because the destination did not meet the visitor's expectations or desires. When they search for specific information on the web and land at your website, it had better deliver the relevant information based on that search or your visitor is gone in a flash!
You won't even have time to try and convert them into a potential lead because they have already left…your website did not deliver the promise it said it would from the search result.
Ok, so now what?
Make Sure Your Website Delivers
How can your website emulate the Booking.com experience?
Simple, make sure your website delivers on the destination end of any search result. This means having the correct search engine optimization on every page, images with keyword specific alt tags, and correct meta data information for page titles, description and keywords.
Secondly, your website needs to be about your customer's needs, not a showcase for how great you think you are. Too many businesses make the mistake of trying to represent everything they do and design the website around the premise of, "look how good we are."
Here's some news for you, no one cares! Especially when a customer is visiting your website for the first time.
Your website must be designed to address the issues your visitors have. Not a nice fancy brochure that offers no real value!
Whether you are going to have a website redesign performed, or just tweak some key pages, each page of your website should be delivering exactly what it says it is going to deliver. Don't have a page title about Maui Condos for Lease and the search results link takes you to a page with apartments for lease in Kauai.
If you're an ecommerce store, product links should take you directly to the product page and not your home page. Deliver the right results for the search.
You only have 6 seconds to capture the visitor's attention and keep them on your site. Once they are hooked, you have the opportunity to deliver further relevant content to them, via various methods, and engage them on a different level.
The bottom line is that if your website does not deliver the goods, you're wasting your time, energy and money on driving people to a really bad destination.
Should you hire a marketing agency or a web design company to build your new website? In our article, "Why should I hire a marketing agency for my small business," we'll answer some of those questions.
Mobile Optimization
One other factor that must be addressed. Your website must be mobile optimized. Google plays favorites with sites that are already mobile optimized. You will get a bump above a site that's not.
A visitor who visits a mobile website and it is not optimized will leave it instantly. Don't believe me? Here are some stats that drive home the point.
The majority of consumers are of the opinion that mobile-optimized sites run faster than non-mobile-optimized sites. (ExactTarget, 2014 Mobile Behavior Report)
37% of consumers are more likely to purchase on a mobile-optimized site. (ExactTarget, 2014 Mobile Behavior Report)
27% of consumers will leave a site if it is not mobile-optimized. (ExactTarget, 2014 Mobile Behavior Report)
(Source: Hubspot)
If your website is not delivering the goods, or it is not mobile optimized, it just might be time for a website redesign.
As Booking.com says in their terrific commercials, "The rest of your holiday hinges on the moment you walk through that door!"
The same goes for your website…everything hinges on the moment a visitor lands on your site. Your goal is to get the same response from your website visitors as the folks in the commercial get… that feeling of Booking.yeah!
Bill is the CEO and Founder of InTouch Marketing. Bill drives the vision and direction of InTouch except when England's playing in a soccer tournament, because everything stops!