Many companies have started and abandoned social media lead generation campaigns over the last several years, giving it a bad rap. Most falsely believe that generating quality leads with social media is about Twitter conversations or posting goofy pictures on Facebook or Instagram.
Business owners tend to be bottom line thinkers, and if a strategy is not leading to immediate sales or quality leads, it is quickly abandoned. What they fail to understand is that a quality social media strategy is not about Facebook "Likes" or "Retweets," but about building and nurturing prospective customers and leading them to your website or landing page with high quality relevant content.
A good social media strategy should lead your potential customers to your company website or landing page and culminate with a conversion. It should also ignite your lead generation. Content marketing staples like blog posts, downloadable eBooks, whitepapers and video are the glue that binds your social media strategy together.
By creating targeted content that educates, informs, entertains and solves your prospective customers problems and sharing these across your social media platforms, you draw these valuable prospects to your website.
This ultimately provides the measurable results that you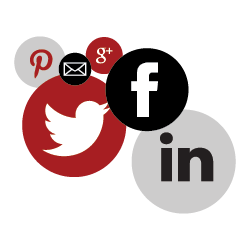 need to prove success and maintain your course of action. By continually offering value to your prospects, this increases engagement and loyalty with your company or brand and increases the likelihood of doing business in the future.
Five Tips To Find Quality Leads
If you are embarking on a new social media strategy, or looking to restart an existing campaign, here are five tips to help you generate quality leads with social media:
Be where your clients are: Begin with an assessment of where your clients spend their time. It is best to look specifically at the big social media sites: LinkedIn, Facebook, Twitter, Google+ and YouTube. Determine which of these sites is producing the best results for your sales team, and consider sending questionnaires to your clients about their social media habits and which platforms are most useful to their businesses.
Create high quality content that is shareable: Your social media strategy is only as good as the content that you create to educate, inform and entertain your prospects. Regularly creating interesting and relevant blog posts about your industry is required for social media success.
Don't be afraid to share interesting content: Social media is all about interaction and conversation. Don't be afraid to share interesting content that is relevant to your mission from other sources. Not only will you keep your prospective customers informed, you get the added benefit of spreading your content around through reciprocal shares. Twitter and LinkedIn are great places to connect with industry thought leaders that are always looking for relevant content.
Share your content more than once: If you create a killer eBook, or an interesting white paper that result in instant website conversions, don't be afraid to share them regularly on your social media feeds. If the content is good, others will not be turned off by seeing the posts more than once, and if it is really great material this increases the likelihood that your content will be shared, potentially increasing website conversions.
Keep in touch: Once a prospect fills out an online form to receive your eBook or white paper, you must have a way of nurturing. Downloading an eBook is a great first step, but not necessarily an indication that a prospect is ready to buy. In order to increase the likelihood of converting a lead into a customer, you need to stay InTouch (shameless plug there) with emails and additional relevant content like blog posts, etc. If they like your original material, they are more likely to continue to engage with future offerings. Don't let these hard fought leads just sit with no more follow up.
Once you get leads, you need to stay engaged with them. In our article, 7 Simple Engagement Ideas to Boost Results, we outline specific ideas on how to stay connected and boost your connections.
Don't Make It All About You
Finally, press releases, marketing materials and news and information about your company are likely to be ignored in the social media realm. The content that you share should inform and educate your prospects, not tell them how great you are. People tend to be turned off by self-congratulatory promotion.
The prospective customer is already seeking out information about your service or product and is already on your branded website or social media account. Social media is not about blatant self-promotion. Continually talk about yourself and you may turn off a perfect candidate for your service.
Putting all this into practice takes some time. You'll need to put time aside to implement these strategies. However, there are companies like an inbound marketing agency that can do all of this for you.
Are you having any success with your social media strategy?
Tell us how it works or does not work for you in the comments below.
Bill is the CEO and Founder of InTouch Marketing. Bill drives the vision and direction of InTouch except when England's playing in a soccer tournament, because everything stops!